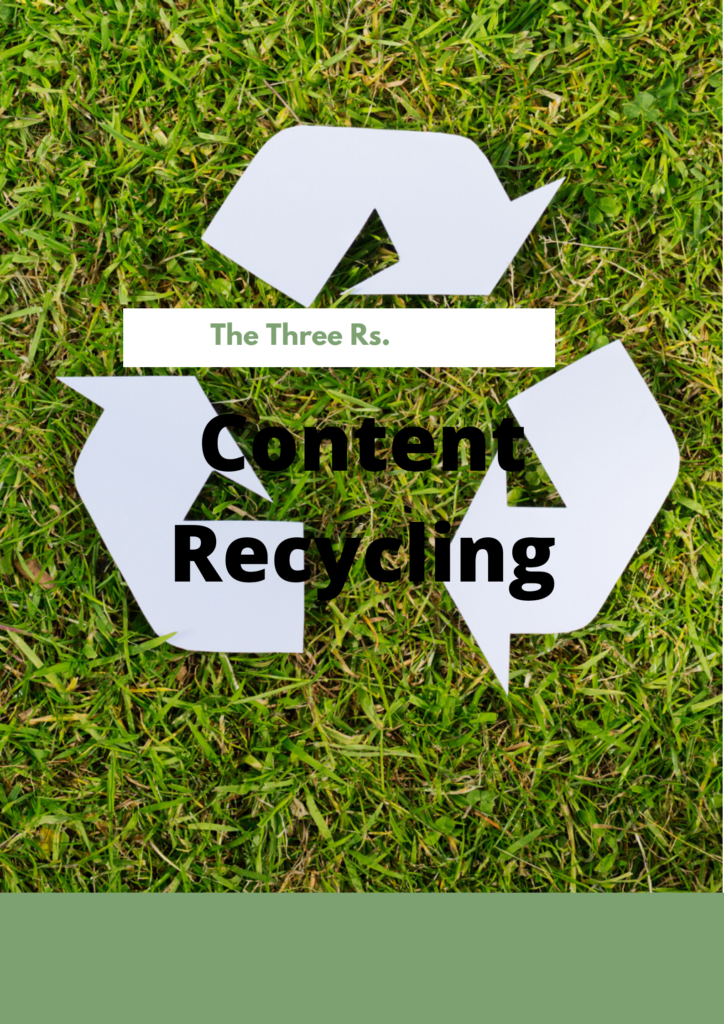 Content recycling can be rewarding if it is done right. let's take you through on how you can get the best results for your website through this method.
How to achieve content recycling – Refurbish, Repurpose, Syndicate
The most mind-boggling things on your mind as a content creator are how not to bore your audience, sound stale, or stay irrelevant. After dropping off one content, the question is what next? The frenzy is real and the pressure huge to handle. Sometimes you experience a block. (oops!)
When it happens like this, you are almost certain you have said a whole lot already (even think there's nothing new to be said) and have an archive of posts to show for all your hard work. Here's how you can work backward to achieve progress in creating content. That's why you are a creative right? That's right!
Here's the good news: content never grows old. Remember your evergreen content mentioned in the content marketing article? They come in handy here.
All you need to do is go back to your old posts and reuse them. It's called content recycling. It's a process that involves the three Rs.
Content recycling helps you to be resourceful with your content, helping you focus on what you can do with what you have instead of bothering about what you don't have.
Content recycling involves two things: reusing the same content across different digital channels, reusing old posts across different digital platforms. They both involve content distribution and promotion.
Content recycling is also a good management skill that is not just cost-effective but results-oriented.
Now you don't have to take my word but I'll share this fun fact with you.
Did you know that in July 2015 Buffer stopped publishing new blog posts for one month and focused on refurbishing their old content and this led to a surge in organic traffic? Check the picture proof below.
Content recycling works and you should try it out too. Let's proceed on how you can pull of content recycling using the 3 Rs.
Refurbish
To make content recycling possible, you need to first of all revisit published posts and try to rework them. See if there are new insights that can be added.
This could include current statistics, an innovation, or a piece of new information that wasn't available at the time you wrote the post.
How to do this
Let's assume you already wrote a post about "5 tools that can help you in copywriting". Here's how you can go about refreshing this post to give it a comeback.
Find out if there are new copywriting tools that have become relevant to the post.
Find out if the old tools you wrote about now have a new version with current features that you haven't covered in the old post.
Update the post to Include your findings by adding a list of newer tools and additional features of the new version of the tools you already wrote about.
I bet that you might see one of your old posts and cringe about how fluffy it seems around the edges. This was probably one of your best performing posts. Once, I found myself asking "who wrote this horse shit?
It happens to even the best of content writers, but that's another reason why you have to rework your old post and give it a facelift instead of thinking about what new thing to write (at least in the meantime).
Steps to refurbishing your content
Check for grammar errors and structure errors.
Make sure sentences are short and concise. Be sure to check for spelling errors, incorrect sentences, ambiguity, and redundant words.
Update post with most current information.
You need to check for information that might have changed from recent research.
Add more relevant details.
Some areas in the topic covered may have been missed. Can you cover these areas and shed more light on areas you think were not detailed enough in the piece?
Check your external links.
Make sure to link to current resources. Your outbound links may have outdated information. Make sure to link to current sites that have updated information and have a higher authority.
Check your internal links.
Make sure to link to current posts you have written.
Optimize for search engines.
Check for keyword placements, your title tags, meta descriptions, and anchor texts.
Bear in mind that, you may decide to do a complete overhaul of a post that did not perform well in the past (check your analytics to confirm).
This would mean that you rewrite completely by taking a different approach, changing the title and headings, and also changing the URL.
OR
For a post that already performed well, all you need to do is tweak a few things but keep the magic that made it perform.
The URL should be left unchanged. The headlines and titles should also be left unchanged. You only have to look out for grammar and structure errors, and update any relevant information. Pictures may be added if you think illustrations would help drive home a certain point.
Republish
To successfully carry off content recycling, after doing all the above, hit the publish button again. Some CMS (content management system) platforms allow you to change the publish date to a current date.
Hubspot illustrates in the above diagram the benefits of refurbishing and republishing old content. From their experience, old posts that were recycled generated more leads and more views than new posts.
It's a good idea to also include an editor's note to indicate that the republished post is an updated version or indicate the date it was last edited. Backlinko did this in their post as seen below.
Republishing can be done on other collaborative sites (like Medium). This will be discussed under content syndication meanwhile let's talk about repurposing.
Repurpose
Repurposing doesn't just help with content recycling but also in content distribution. Content distribution is the act of spreading or promoting your content on the various digital spaces available to you.
This can only be achieved by repurposing your content to suit each digital medium. Pinterest does not have a provision for text content. So, repurposing would mean trying to find a way to turn the information on your blog into an 'instrographic'. This will enable your content to get to a new audience and expand your content reach.
Content Repurposing ideas
Create a slide to help recap an original post.
Skillshare allows you to host a video course. Slides can help you build an engaging video presentation.
Build an infographic with an old blog post.
Summarise all you have said using illustrations and a few texts all in one.
Repost and repromote on social media.
You can take interesting points on your blog posts and turn them into carousels on LinkedIn, Instagram, and Facebook.
Reposting on Quora.
Turn your blog post into a question and repost on Quora or post it as an answer to a question.
Repurpose into tweets and email copy.
Turn blog posts into bite-sized chunks and post on Twitter and daily emails.
Write an ebook.
Create an ebook with a pillar post you have made.
Convert each point on a listicle into a full post.
To illustrate, If you have made a list of 20 SEO checklists, you can make 20 posts out of each of the items listed.
Guest posting.
Write a guest post or two that links back to an original blog post on your site.
Use the Hub and spoke method for best results. The 'hub' should be the main topic (a long-form content with subtopics that can be developed into a stand-alone post) and should reside on your website.
The 'spoke' on the other hand, should be a subtopic that links to the main post on your webpage.
The spoke(guest post) becomes responsible for traffic and backlinks to the hub (your blog) as you can see in CMI's (Content Marketing Institute) picture below. This method makes a good SEO strategy for your blog.
Transform a blog post into a podcast.
Another fun fact! According to podcast statistics 80% of the time, podcast listeners listen to entire episodes. It's a gold mine to maximise. All you need to do is make the post into a recorded script and add a recorded intro and outro.
Turn a blog post into a video.
This may seem difficult but the hack is picking the right kind of blog post. A how-to blog post can set the foundation for a good script for a YouTube video.
Organise a webinar.
Combine your video and audio content, then make them into a webinar to engage your audience.
Organise a presentation or slide deck.
A series of blog posts can be repurposed into a final presentation In a webinar, podcast, video, keynote or PowerPoint.
Let's say you have expanded that 20 SEO checklists and made it into a series of posts. You could then use it as a basis to make a final presentation about getting SEO right with the recommendations in your posts.
You can use your slide deck as a lead magnet. Another advantage of your slide deck is, other blogs or website can include your slide deck in any of their content.
Scoop.It. gives more efficient content repurposing ideas with this diagram.
Content syndication
This is the act of republishing content on another site ( third party sites) other than your own. It could be any kind of content form. Infographic, videos, blog posts, e.t.c
This method benefits you as the original author and the owners of the platforms you are publishing on.
Publications welcome this idea because they can serve something new to their readers too. This method of content recycling can have a positive impact on page views and reshares as you see in the chart below by Getresponse.
The best way to do content syndication without getting penalized by Google is to link back to the original article and include a canonical link.
Publications usually specify that a piece is syndicated in this manner:
"This article originally appeared in (original publication + link)''
OR
"This article appeared In (original publication + link) and has been published here with permission."
A survey in 2017 by Salesbox establishes that 65% of B2B marketers use content syndication as a core lead generation tactic.
This syndication effect chart below shows that there was an increase in review volume and product coverage when content was syndicated.
Content Syndication can be free or paid.
Free content syndication
You only need to find a suitable publication or a relevant partner ( do your research), pitch your content and try to build a partnership one at a time.
Ways to syndicate for free
1. Republishing one of your content that performed so well in recent times on a bigger website with more readership and higher authority can help you acheive content recycling.
2. Republishing old content on websites that have the same level of authority and audience as yours.
3. Do a guest post on a bigger publication and republish the post on your website, Medium, or LinkedIn at a later time.
4. Some websites are known for syndicating content. Look out for them and position yourself to get picked by them. Writing high quality content that may interest them and suit their audience will help you get picked.
Free content syndication site to help you with content recycling.
These are collaborative means to help better distribute your content.
Medium
Quora
Business to community
Reddit
Slideshare
Tumblr
Pinterest
Paid content syndication that can help with content recycling
This time around you pay to get published. It's a faster route to go if you need quick recommendations in major publications.
You only need to collaborate directly with publishers to get your content in front of a larger audience. However, this would mean that you have a good budget to fund this method.
However, tools like Outbrain and Taboola makes it possible to appear on big publication sites like CNN, BBC, or the Guardian. With a slim budget, your article can be recommended as a pop-up ad.
The pop-up features an image, a short title, and a link back to your website. You get to pay only when readers click to read them. They are 'sponsored content' that gets seen on high authority websites and big publications.
This option doesn't give SEO authority as the unpaid one does but, it's a faster route to take to appear in big publications.
It's best to syndicate content at least after one week of publishing. This gives enough time for the search engine to index your original post.
Another way to use this method of content recycling is to Syndicate other publications on your website.
This method helps you serve fresh content conveniently to your readers. Most importantly, they don't get to leave your site to get this value. It's such a clever way to make them stay glued to you.
Paid content syndication services for content recycling
Outbrain
Taboola
Zemanta
RevContent
Sharethought
Benefits of content recycling
There are benefits to making old posts come alive. Content recycling brings about the following:
Distributing your content through recycling improves your brand authority. Google acknowledges free content syndication and factors it in when ranking a site.
Fresh content is appealing and people come looking for it when you direct them there.
Gets more eyes on your content
You can reach a newer audience. For instance, people who are not inclined to read may be more inclined to listen to a podcast or watch a video.
You shouldn't have to spend money producing content from the scratch. You already have a content foundation from your old content. All you need to do is rework. This is also time-saving.
Taking your content to people wherever they may be in the digital space exposes your brand.
There is no reason to drag your feet about resurrecting old content. You are now armed to the teeth for a content recycling plan.
I can't wait to read about your content recycling success stories. I can only wish that you break a leg!